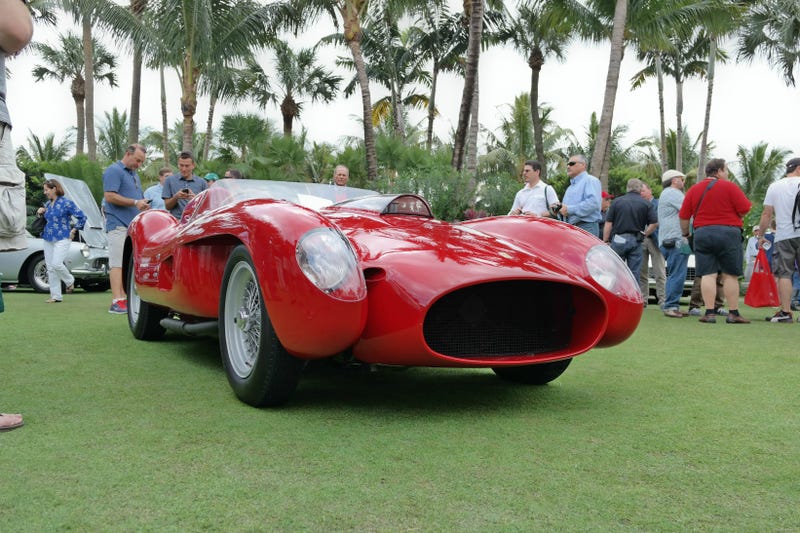 When someone invites you to join them at one of the biggest and best attended Ferrari gatherings in the country, you don't say no. So I packed a bag and headed to Palm Beach for the weekend.
Or maybe I was just looking for an excuse to get the hell out of NYC polar vortex 2.0. Either way; warm weather and Ferraris seemed like a better option than hibernating all weekend and living from one Seamless delivery to the next.
This year's Concorso featured the gorgeous 275 GTB's 50th anniversary. V12 up front, sexy sheetmetal wrapping, acres of pleated leather, and a big wooden steering wheel. Recent sales show that 275s go for 1 million on the low end and 27 million on the high. There was a plethora of them there.
Also F40. The 308 and 328s behind it may as well have been invisible. I waited almost 15 minutes for the crowd to clear for a split second in order to get this shot.
And then I spent another 15 minutes just soaking up the raked intakes and sculpted wing. What an incredible piece of machinery.
Then there was this thing. What the hell is this thing? Doesn't look very deserving of a Ferrari badge.
The parking lot was almost as good as the Concorso, boasting a Pagani Huayra, Bugatti Veyron, as well as a 991 Turbo and GT3. Check out the full gallery below:
Keep up with JBH on YouTube, Twitter, and Instagram (@jbh1126)